Safety First!
Must-Have Pandemic Products
2020 is going to be the year we all remember – how our lives all changed almost overnight.  New phrases like 'social distancing' and "shielding" entered our lexicons, toilet rolls and flour became as scarce as that big lottery win and the wearing of face masks when out and about became a completely normal fashion accessory.
This 'new normal' is going to be with us for a while and it is starting to look strange watching films on television or online and seeing people shaking hands, hugging their friends and going out to nightclubs.
Every business from shops, to pubs, to banks, retail stores, charities, tourist venues and more are now going to need to ensure that both their staff and customers are safe in order to be able to continue trading.   Marking out 2m distance lines, keeping the number of people on the premises down to a number that makes social distancing possible and putting up notices to remind people to wash their hands, as well as providing alcohol-based sanitiser are all going to become regular features as we tentatively go about our business in the second half of the year.
Visiting China and Japan a few years ago, it seemed strange to me at the time how many people walked around wearing face masks as a matter of course.  Now, here in the UK when we visit our supermarkets and petrol stations it is unremarkable to see people covering their faces with scarves and other face coverings.   A cloth mask doesn't stop the spread of the virus, but it certainly helps slow it down and can help remind people not to touch their faces.  It's very important to launder your used face mask with soap and water every day that you use it.  The soap dissolves the fatty layer that surrounds the virus and without that fatty layer the virus cannot survive.
Branded Face Masks
Here at British Tags we have had enquiries from several of our customers asking us, as their branded goods specialist, whether we could supply them with bespoke face coverings printed with their logo or company design.   One visitor attraction wanted to sell branded face masks on their website and another sports related retailer required their staff to look smart at work wearing a logo-bearing face mask in company colours.  They both saw the opportunity to associate their brand as one that takes responsibility and cares about our health.  We were pleased to be able to tell them that we most certainly could help – at very attractive prices.
Our branded reusable face masks are manufactured using triple-layered cotton with black or white background and are attached to the face with an elastic loop over the ears for a secure comfortable fit.   As usual what we produce is bespoke and designed to your specification.  Where masks need to be worn in areas of low lighting, then the answer is glow-in-the-dark printing and that makes the mask visible in the dark.  Some fun designs (which we can provide free-of-charge) will help to customise the mask for your brand.
Please note that our face masks are not medical-grade masks.
The Zero-Touch Door Opener and Button Pusher Gadget
Punching in pin numbers into payment machines without touching the buttons, or trying to open the loo door in a sanitised manner at the shopping centre after having just washed your hands is now possible with a zero-touch door opener looped onto your keyring or handbag.  This interesting item will also become a popular gift-shop purchase.   A supply of these printed with your branding, your logo or a corporate message will be very popular items when sold at tills or in a gift shop.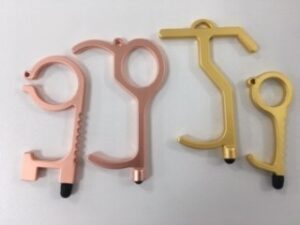 Branded Social Distancing Button Badges
Some companies have opted to give their staff customised button badges marked up with social distancing messaging to wear, in order to remind visitors or customers that social distancing guidelines should be followed.   It's a simple and cheap way of reminding people that distance = healthy.
Whatever the next few months brings, we know that we need to 'stay alert' and safety items like sanitiser, face masks, badges, and zero-touch door openers are going to help us, even if just to constantly remind us that life is not going to be going back to normal (whatever that is) for some time.